"Ro-ckaat is a ranged direct type A-Force. Deploy him as far as possible from enemies!"
---
| | | | |
| --- | --- | --- | --- |
| | | | |
| Rank D | Rank C | Rank B | Rank A |
---
Summary

Ro-ckaat is born from advanced genetic engineering, mostly gene of cat. He is a rapid shooter and sometimes shoot a grenade to inflict splash damages.
Ro-ckaat is the first A-Force unlocked by first mission.
---
Defensive Strategy

When you use Ro-ckaat in a mission or defense line, never send him to the front line of the battle.
Ro-ckaat can easily terminate hoards of thintmon by his grenade skill.
Use rocket skill by tap action can turn over the situation. Don't spend rocket skill to dungsters behind a cover as the cover will prevent rocket damage from explosion.
---
Strategy Against Ro-ckaat

Don't send bugmons at once for the lane on which many Ro-ckaats are deployed. Send bugmons one by one to reduce splash damage taken from grenade skill.
---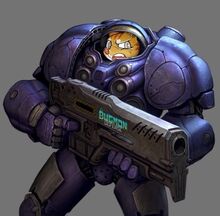 | Unlock Condition | Skill | Element Type | Skill Effect | Bonus per 1 Skill Level Upgrade | Required Alpha-Gene Chips |
| --- | --- | --- | --- | --- | --- |
| Rank D | Grenade | Heat | Fires grenade once every 15 times to inflict heat on the enemies with extra damages as 1500% out of its damage. | extra heat damage +100% | N/A |
| Rank C | Boiled Oil | Fluid | Inflict extra damages as 80% out of its damage on the enemies in heat or ignite. | extra fluid damage +20% | 20 |
| Rank B | Rocket Bullet | Heat | Fires a rocket bullet of cool time 30 seconds to give 9000 extra damage covering wide extent and make ignite for 3 seconds. | extra heat damage +3000 | 100 |
| Rank A | Coolant | Fluid | The cooldown time of rocket bullet decreases for 20 seconds. | cool down decrease +2.5 sec | 200 |
____
| Level | Attack Damage | Attack Speed | Hitpoints | Dodge | HP regen | Research Cost | Research Time |
| --- | --- | --- | --- | --- | --- | --- | --- |
| 1 | 30 | 7.00 | 2,500 | 0.00% | 1.00% | 1,000 | N/A |
| 2 | 33 | 7.30 | 2590 | 0.00% | 1.00% | 2,000 | 5 Mins |
| 3 | 36 | 7.60 | 2680 | 0.00% | 1.00% | 10,000 | 20 Mins |
| 4 | 39 | 7.90 | 2770 | 0.00% | 1.00% | 50,000 | 40 Mins |
| 5 | 42 | 8.20 | 2860 | 0.00% | 1.00% | 200,000 | 1 Hour |
| 6 | 45 | 8.50 | 2950 | 0.00% | 1.00% | 400,000 | 2 Hours |
| 7 | 48 | 8.80 | 3040 | 0.00% | 1.00% | 800,000 | 4 Hours |
| 8 | 51 | 9.10 | 3130 | 0.00% | 1.00% | 1,600,000 | 8 Hours |
| 9 | 54 | 9.40 | 3220 | 0.00% | 1.00% | 3,200,000 | 16 Hours |
| 10 | 57 | 9.70 | 3310 | 0.00% | 1.00% | 5,000,000 | 1 Day |
| 11 | 60 | 10.00 | 3400 | 0.00% | 1.00% | 6,000,000 | 2 Days |
| 12 | 63 | 10.30 | 3490 | 0.00% | 1.00% | 7,000,000 | 3 Days |
| 13 | 66 | 10.60 | 3580 | 0.00% | 1.00% | 7,500,000 | 4 Days |