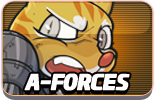 ---
---
A-Forces are animal troops players can control. They are used to either play the missions, or fend off other players trying to win Trophies and loot Resources - this is called raiding. A-Forces are recruited from Shop and are stored in Barrack. Currently, there are six different types of A-Forces, each type of A-Forces is belong to a certain unit type such as melee, ranger and support types.
Players should note that A-Forces can be upgraded in the Barrack. There are two different ways to upgrade A-Forces.
Upgrade Level to have higher unit stats such as hitpoints, attack damage, attack speed, movement speed and dodge rate. Each unit type has different max level cap to be upgraded. Currently, melee and range type can be upgraded up to 13, but defense type can be done up to 8. Minion is a special unit and it can be upgraded up to 8 altough it is range type unit. To upgrade level, gold is consumed and it requires some times to finish.
Upgrade Rank to have additional skills. This is called promotion. All A-Forces can be promoted from Rank D to A. Each rank gives A-Forces one new skill, so if an A-Force is upgraded to Rank A it has 4 skills to use. To upgrade rank, alpha-gene chips are consumed and it can be done without waiting time.